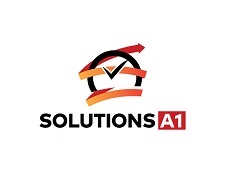 Privacy Policy
Solutions A1 operates the www.solutionsa1.com website, which provides the SERVICE.
This page is used to inform website visitors regarding our policies with the collection, use, and disclosure of Personal Information if anyone decided to use our Service.
If you choose to use our Service, then you agree to the collection and use of information in relation with this policy. The Personal Information that we collect are used for providing the Service. We will not use or share your information with anyone except as described in this Privacy Policy.
The terms used in this Privacy Policy have the same meanings as in our Terms and Conditions, which is accessible at www.solutionsa1.com, unless otherwise defined in this Privacy Policy.
How TimeStampPro works
TimeStampPro (the app), is designed to detect, automatically, when you physically arrive at your work location and when you physically leave the premises. To do this, the app uses a "Geofence", a mathematical, yet virtual perimeter surrounding your work location and defined in meters or feet, generally between 10 meters (30 ft) and 150 meters (500 ft). In determining the geofence, we consider accuracy and coverage limits to minimize as much as possible your cell phone battery usage:
At time of employment and after downloading the TimeStamPro app on your cell phone, you will be asked to allow the above app to use your location. As shown in the figure on the right, you have three options.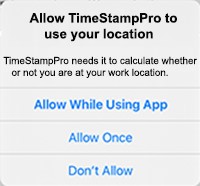 Once you accept or allow the app to use your location, a geographic coordinate (latitude and longitude) is determined for your workplace and from that, the app virtually traces the above mathematical perimeter or Geofence. This data is stored in Solutions A1's database.
You will also be asked to enter data required by your employer such as your name, surname, address, email address, salary, your ID with regards to your country's income tax department (SIN in Canada, SSN in the USA etc.). Again, this date is not stored on your cell phone but in Solutions A1's database.
You are now ready to use the app.
Weekly or bi-weekly, a work schedule is planned by the manager or the supervisor on Solutions A1's WEB application.
The supervisor identifies, in the above WEB application, the start and end times of each work shift for each day of the week as is currently done. The supervisor also enters the names of the employees assigned to the different jobs (cook, waiter, busboy etc.).
Whenever your cell phone is turned on, TimeStampPro retrieves from Solutions A1 database, your employer's location as determined at time of employment. From that time on, Android notifies, at different intervals, the App of its location and the App uses this data to verify whether the User is within the Geofence or not. Again, note that the search interval is not defined by TimeStampPro. We simply use the data automatically generated by your cell phone.

If you are outside the Geofence, no data is saved or sent to any Solutions A1 or third-party database.
If TimeStampPro determines that you are inside the Geofence, it will send Solutions A1 the time (H:M:S) you entered the Geofence. This data will be stored in Solutions A1's database.
When TimeStampPro eventually determines that you are outside the Geofence, implying that you have finished work, it will again send Solutions A1 the time (H:M:S) you exited the premises or the Geofence. This data too will be stored in the database.

The time data stored in the database is eventually used to determine the number of hours worked during a specified period.
The user always has access to the same data during his employment.
The user's data is deleted whenever the employee officially quits his employment.
Information Collection and Use
The information that we collect will be used to identify you, the worker, to your employer and only your employer.
Log Data
We want to inform you that whenever you visit our Service using Solutions A1 WEB application, we collect information that your browser sends to us that is called Log Data. This Log Data may include information such as your computer's Internet Protocol ("IP") address, browser version, and other statistics.
Cookies
Our website and/or App do not use cookies.
Service Providers
We may employ third-party companies and individuals due to the following reasons:
To facilitate our Service;
To provide the Service on our behalf;
To perform Service-related services; or
To assist us in analyzing how our Service is used.
We want to inform our Service users that these third parties have access to your Personal Information. The reason is to perform the tasks assigned to them on our behalf. However, they are obligated not to disclose or use the information for any other purpose.
Security
We value your trust in providing us your Personal Information, thus we are striving to use commercially acceptable means of protecting it. But remember that no method of transmission over the internet, or method of electronic storage is 100% secure and reliable, and we cannot guarantee its absolute security.
Links to Other Sites
Our Service may contain links to other sites. If you click on a third-party link, you will be directed to that site. Note that these external sites are not operated by us. Therefore, we strongly advise you to review the Privacy Policy of these websites in order to obtain more information. We have no control over, and assume no responsibility for the content, privacy policies, or practices of any third-party sites or services.
Children's Privacy
Our Services do not address anyone under the age of 14. We do not knowingly collect personal identifiable information from children under 14. In the case we discover that a child under 14 has provided us with personal information, we immediately delete this from our servers. If you are a parent or guardian and you are aware that your child has provided us with personal information, please contact us so that we will be able to do necessary actions.
Changes to This Privacy Policy
We may update our Privacy Policy from time to time. Thus, we advise you to review this page periodically for any changes. We will notify you of any changes by posting the new Privacy Policy on this page. These changes are effective immediately, after they are posted on this page.
Contact Us
If you have any questions or suggestions about our Privacy Policy, do not hesitate to contact us.
This Privacy Policy page was created at privacypolicytemplate.net.